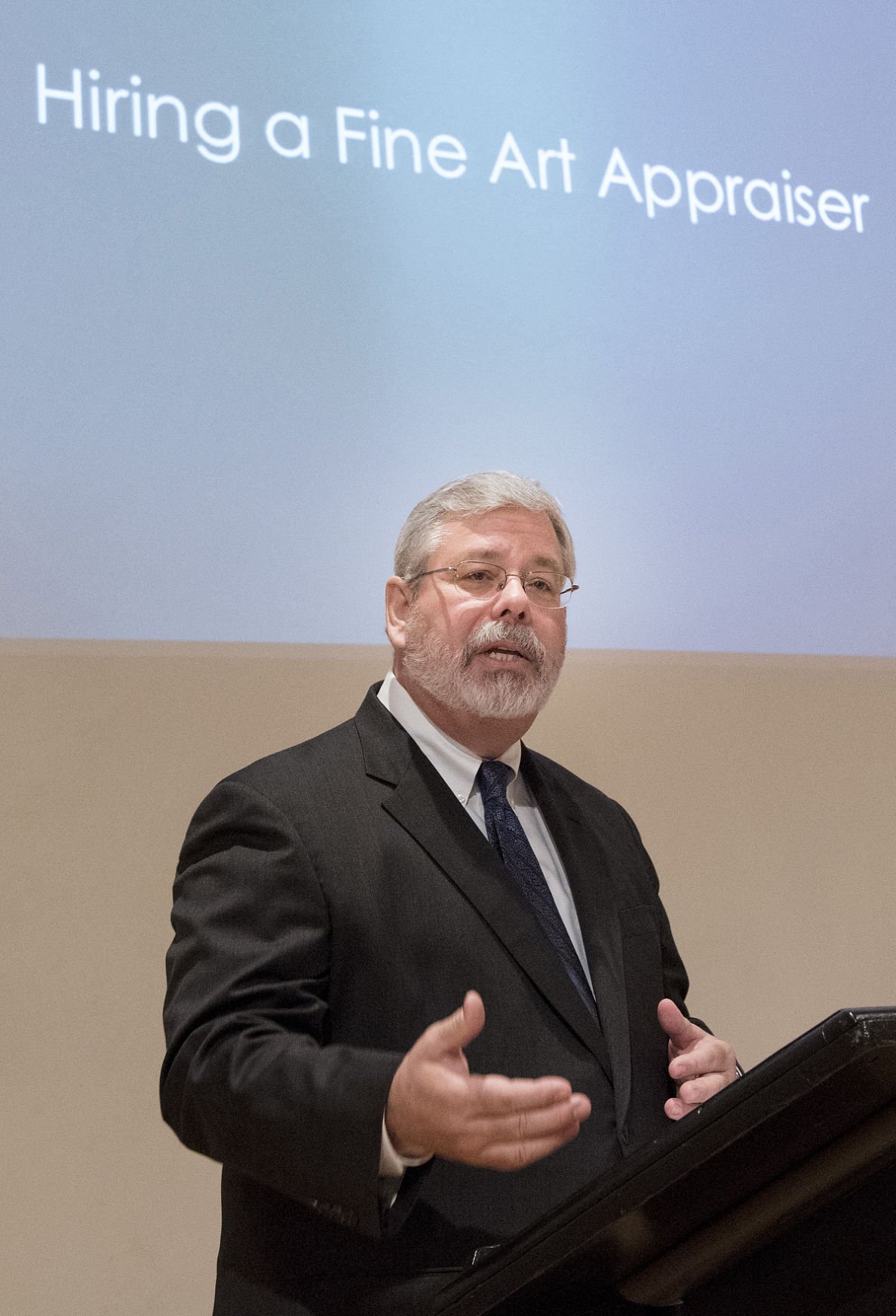 Fellow appraiser and friend Bob Harrison, ISA AM was recently featured in the Frederick News-Post about a discussion on fine art appraising held at the Delaplaine Visual Arts Education Center in Frederick.
Bob, an appraiser and one of the appraisers on the Maryland Public Television show Chesapeake Collectibles talked about what an appraisal is compared to the many perceptions held by the public and users of appraisals. He also touched on authentiction, intended use, and to hire a qualified appraiser, mentioning the International Society of Appraisers (ISA), the Appraisers Association of America (AAA) or the American Society of Appraisers (ASA) .
As noted here on the AW Blog, the Appraisal Foundation has been working with TAFAC and personal property sponsors to promote qualified appraisers and appraisals. It is great to see fellow appraisers out and promoting the same. We as professionals need to do more in order to educate the public on personal property appraising. As a matter of fact I had to potential clients call this week, and both had no clue what was involved and what potential fees could be. Needless to say, an assignment did not materialize from the calls. Point being, the standard's groups such as the Appraisal Foundation, the orgs, such as ISA, AAA and ASA, and individual appraisers all need to work together to promote the profession and qualified appraisers and appraisals.
By giving such talks, Bob Harrison raises his professional profile within his community and at the time promotes for professional and qualified appraisals.
The Frederick News-Post reports
It isn't rare for someone to approach Robert Harrison with a piece of artwork and flatly ask, "How much is this worth?"

Finding this out is more complicated than it may appear, and Harrison discussed this on Saturday at the Delaplaine Visual Arts Education Center in Frederick.

Harrison is a fine-art appraiser and one of the appraisers for the Maryland Public Television show "Chesapeake Collectibles," hosted by Rhea Feiken. One of his main points to Saturday's audience was that appraising art is not like people are used to seeing on his show, which is primarily for entertainment and interesting stories.

"Not everything begins with the excited client, and ends in the 'Aha!' moment," Harrison said.

He explained that a fine-art appraisal is not the same as an educated guess, a laundry list of numbers or a pre-auction estimate. It can have a long process of analysis. Harrison discussed five things people should know going into the appraisal.

The first thing to know is you may not need an appraisal at all. Harrison suggested checking with an insurance broker to see if the art is covered under a standard policy. Pieces of art such as 19th-century landscapes and engravings probably won't need an appraisal since those have not been doing well on the market lately.

Appraisals in general can take a financial and time commitment, and Harrison said a lot of free information is offered online. He recommended checking out fine-art databases and the websites of major auction houses, which list past sales.

Reasons for a professional appraisal could include estate planning; completing probate; determining federal or local estate tax or inheritance tax; selling an insurance damage claim; divorce; and preparing a lawsuit.

Pieces of art that would typically need an appraisal would include old master paintings — such as Rembrandt Harmenszoon and Albrecht Durer, impressionist artwork, modern art from 1860 to 1920 and post-World War I art from 1920 to 1945. The last two, in particular, have investment potential that was worth billions in sales in 2015, Harrison said.

"We get calls from investors every month saying 'How is it doing?'" he said.

He referenced an abstract by artist James Brooks that was sold for $1,600 in 1959 and then appraised for $48,000 in 2012. A mobile by Alexander Calder was sold for $7,000 in 1967 and then $4.5 million in 2015 under a different name.

The second thing to know before getting an appraisal is the intended use for a piece of art, Harrison said. This is especially important when it comes to divorce proceedings. If someone is planning to sell something to a gallery, market value could increase a piece's appraised value.

The third thing to know is that no two art appraisers are alike. Potential clients need to research an appraiser's credentials, and he recommended checking to see if an appraiser is part of one of these professional associations: the International Society of Appraisers, American Society of Appraisers or Appraisers Association of America. All of these associations' websites have links to find area experts, Harrison said.

It's important to know that there are no licensing requirements to become an art appraiser, but associations have testing, ethical codes and boards that oversee what they do, he said.

He also recommended using an appraiser that has experience with the particular genres you're looking to have appraised, Harrison said.

The fourth thing to know is that appraisers cannot confirm if a piece of art is authentic. Harrison said this tends to shock clients and is a contested issue in the art world.

"The ever-present threat of litigation has scared some people off," he said.

To appraise art, there does need to be a level of knowledge about period, age, style and condition. But an appraiser has no obligation to guarantee something is authentic. The appraiser should let clients know if he or she has any doubts.

It's possible to have a painting X-rayed to determine if a signature is authentic, but Harrison said this can cost up to $1,000.

Harrison's fifth point reiterated that art appraisals are not as instant as they appear on his show. He is sometimes asked for an immediate "iron-clad guarantee that that's Lincoln's mother's rocking chair."

To avoid unrealistic expectations, Harrison told his audience, "You should do as much research before the process as the appraiser does when he or she gets the assignment."
Source:
The Frederick News Post