Bloomberg has posted on the recently released UBS/Art Basel art report complied by art economist Clare McAndrew.
The report notes that sales of art dropped 11% during 2016, which had fallen 7% since 2015. Total sales are estimated to be $56.6 billion, compared to the record in 2014 of $69.2 billion. Interesting, auction sales according to the report fell a rather large 26%.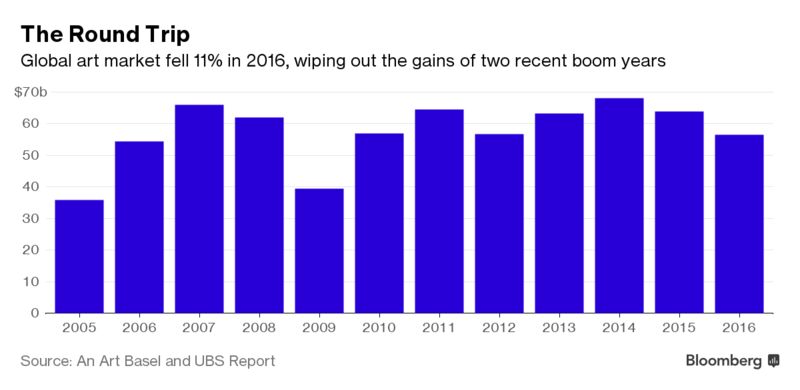 Although the current results lack strength in the market, there is optimism for the future. Although there is concern for the many geo-political issues.
I will post more in the next few days on some of the findings in the report as it covers the fine art market, auctions, dealer sales/exhibitions, online sales, market sectors, global wealth and economic impact.
I have just downloaded the full report to review. To read/download the full report, click
HERE
. It is a free download, so no reason not to download and save for future use and market analysis in appraisal reports.
Bloomberg reports
The global art market contracted for the second straight year in 2016, falling to the lowest level since the financial crisis as economic and political volatility weighed on auction sales.

Sales of art and antiques dropped 11 percent to $56.6 billion, according to a report released on Wednesday by UBS Group AG and Art Basel. The decline, on top of a 7 percent slide in 2015, wipes out the gains seen in 2013 and 2014, when sales reached an all-time high of $68.2 billion.

"It was quite a challenging year for the art market," Clare McAndrew, founder of Arts Economics that prepared the report, said in a telephone interview.

"It's a really supply-driven marketplace and it's vendors holding back," McAndrew said in an interview with Bloomberg Television on Wednesday. "We saw it especially at the top end of the market. The private sector did fairly well, but the auction sector declined quite dramatically and that brought the numbers down."

Her outlook for 2017 is cautious, with sellers holding back as economic and geopolitical uncertainty continues in many countries. Buyers, on the other hand, may view art and antiques as "a relative safe haven amidst volatility elsewhere," increasing prices for the works that appear on the market, according to the report.

Some signs point to a brighter outlook. London auctions of Impressionist, modern, postwar and contemporary art bounced back from last year's doldrums. Christie's sold $332.8 million of Asian art in New York in a record-setting series of auctions last week. A 13th century Chinese painting depicting six dragons fetched $49 million, the highest price for a Chinese painting sold outside of Asia. It had been estimated at $1.2 million to $1.8 million.

Auction sales declined 26 percent to $22.1 billion, according to the report, released to coincide with the opening of Art Basel Hong Kong.

Sales of postwar and contemporary works at auction fell 18 percent to $5.6 billion; modern art was down 43 percent at $2.6 billion; the Impressionist category declined 31 percent to $1.3 billion.

The high end of the auction market -- where prices for artworks exceed $1 million -- fell 34 percent. Trophies priced at more than $10 million saw the biggest decline, at 53 percent.

Industry leaders Sotheby's and Christie's lost market share, together accounting for 38 percent of the auction sales, down from 42 percent in 2015.

Among the winners:

The U.S. remained the leading market, representing 40 percent of all transactions by value. The second-largest market was the U.K., at 21 percent, followed by China, at 20 percent.

Sales by dealers and galleries represented 57 percent of the overall market, rising 3 percent to $32.5 billion. The increase was driven by the top end of the segment, as dealers whose volume exceeded $50 million saw a 19 percent uptick in sales.

Sales of Old Masters, which includes many Chinese painters, increased 5 percent to $1.4 billion, surpassing Impressionist art. The results benefited from increased business in China and the U.K., where 15 of the top 18 transactions in the category took place.

Art fairs generated about $13.3 billion in sales, up 5 percent from 2015, representing 41 percent of total sales by galleries.
Online sales increased by 4 percent to $4.9 billion, accounting for 9 percent of the global market. Most sales were below $50,000, according to a survey of 50 companies.
Source:
Bloomberg