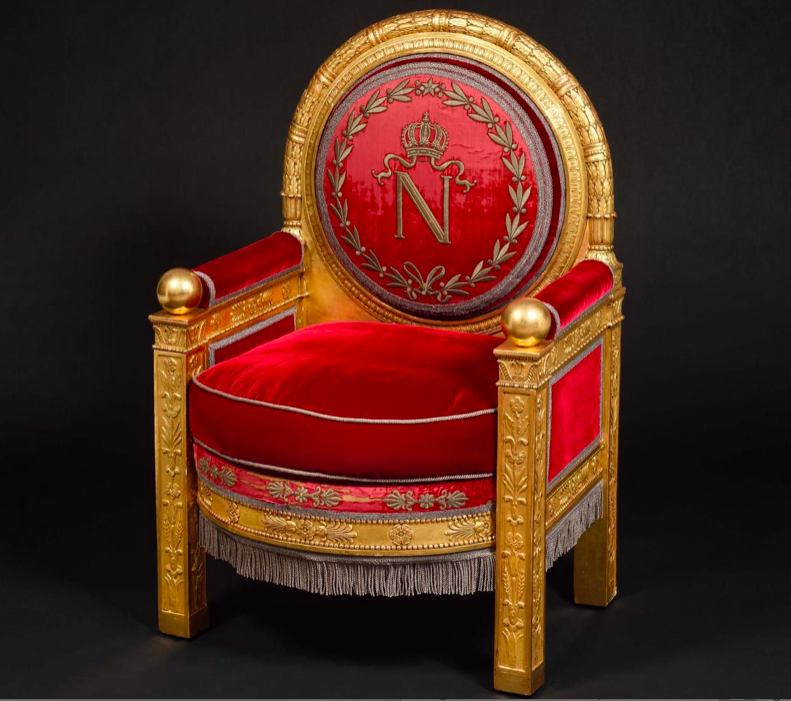 I like to post on sale items of interest, especially those with strong provenance and famous ownership. It is good to keep track of these when looking at premiums associated with ownership when appraising.
Barneby's, the auction platform posted on the sale of Napoleon's throne, one of 5 made for his 5 places of power. The pre sale estimate is $68,000 to $90,000 offered by Osenat auction house and the sale is scheduled for April 7th.
Barneby's reports
Napoleon's imperial seat will be offered for sale on April 7 in Fontainebleau by Osenat auction house. The historic object is one of the five thrones made for the emperor that once decorated his various residences.

Each of the thrones commissioned by Napoleon is a masterpiece of cabinetmaking and illustrate his authority in the five places of power: the Tuileries, the Palais Saint-Cloud, the Paris City Hall and the two legislative assemblies.

The powerful symbolism of the throne was of the utmost importance to the emperor, who liked to display his superiority over his subjects and the rest of the court. The ornate seat, therefore, had to embody the imperial power and be treated as a sacred object.

The majestic armchairs appear in several official portraits, one of the best known being Napoleon I on the Imperial Throne, an official commission by the young Jean Auguste Dominique Ingres, which includes all the symbols related to the authority of the emperor.

The seat to be presented for sale in April is slightly smaller than that of the Tuileries version and has the attributes present on the five thrones: the "N" embroidered in the center of the folder, supposed to represent the imperial regime, and the laurel. The gilded wooden medallion file is richly carved, as is the structure of the seat, on which one can see plant ornaments.

The throne will enter the auction room with a fixed estimate between $68,000-90,000. The personal items of the emperor, or any object of Napoleonic origin, have often excited collectors. For example, a service of Sèvres porcelain once owned by Napoleon sold for $1.8 million as part of the David Rockefeller estate sale at Christie's in May 2018, a golden laurel leaf from Napoleon's crown sold for $700,000, six times its estimate, at Osenat in November 2017 and Napoleon's bicorne hat sold for $2.4 million in 2014.
Source:
Barneby's
---