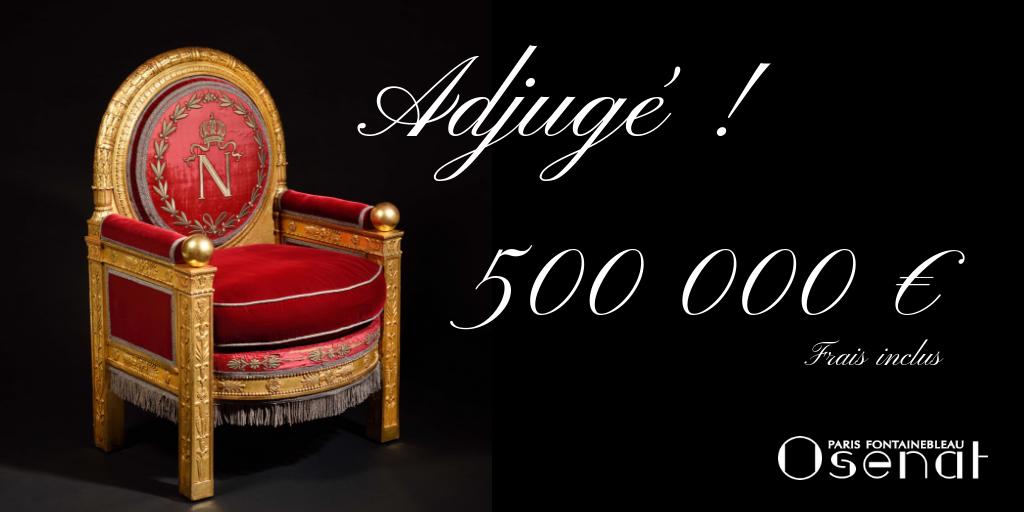 According to Ouest-France the Imperial Throne auctioned for €500,000 (about $561,000) against a pre sale estimate of $68,000 to $90,000. While there was some talk the chair was not authentic, the auction house stood by its claim. It also stated the pre sale estimate was low because of restorations.
Ouest France reports (from Google Translate)
An "imperial throne chair" was sold € 500,000 this Sunday, April 7 in Fontainebleau (Seine-et-Marne), well above estimates and despite a controversy over its authenticity that preceded its sale, announced Osenat house.

This controversy, I do not understand it. These are the unsupported criticism of one person who did not even see the seat, said Jean-Pierre Osenat shortly before the sale. The experts around us are very competent. For us, authenticity is not in doubt. This seat was reasonably estimated because there were restorations, as mentioned in the catalog, "he added.

The discrepancy between Christie's estimates and those of his auction house does not surprise him more than that: "It happens very often. They interpreted the seat differently, but we did a lot of assessment of it ". With a sale to 500 000 € (including fees), the market seems to have decided in his favor.
Source:
Ouest France
---