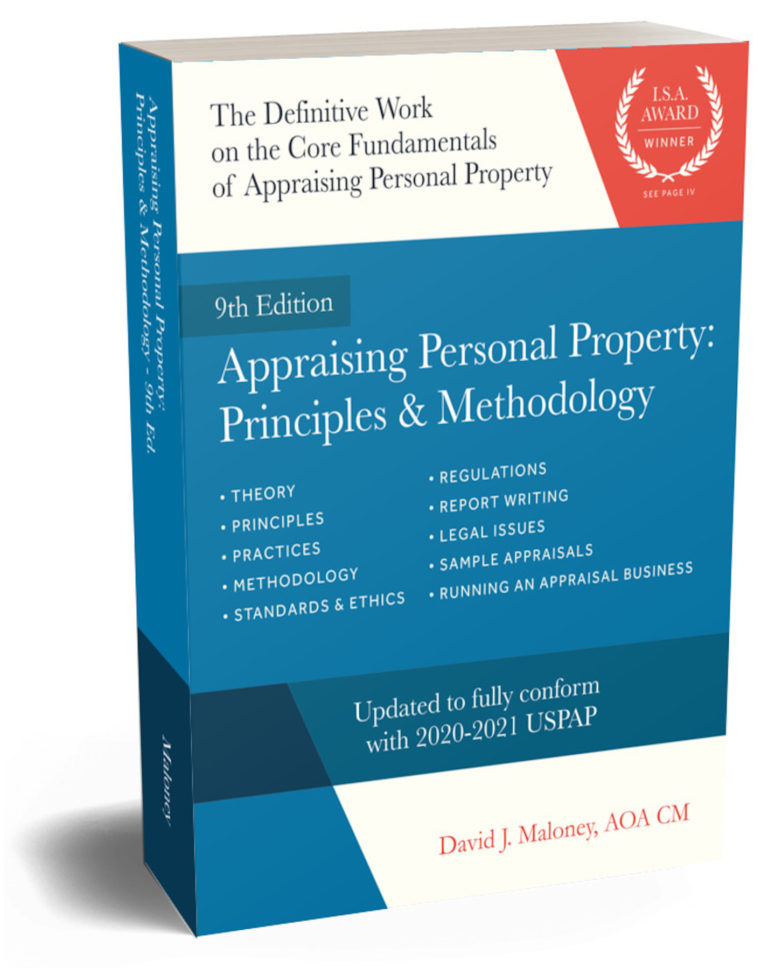 The newest edition (9th, for 2020-2021) of David Maloney's
Appraising Personal Property: Principles & Methodology
is now available for sale. I have most of the past editions of this important book on appraisal principles and methodology, and it just keeps improving ever year.
As in past editions and you immediately note the newest version is completely updated to be in compliance with the latest version of USPAP (2020-2022). The new edition is published along with the new USPAP cycles, so you are always current if you have the latest edition.
One of the first things you notice is how well thought out the format of the book is. It has an excellent and expanded table of contents covering over 8 pages. The next section is the important and rather detailed section on What's New. This includes summary sections for both new and expanded discussions, footnotes (over 600 many directing the reader to additional and related discussions or USPAP documentation) and content as well as detailed USPAP changes. The next section is on Chapter Synopses, which gives a brief overview of each chapter such as Appraisal Terminology (chapter 1), Appraisal Principles (chapters 2-6), USPAP (chapter 7), Ethical Standards of Professional Content (chapter 8), Research (chapter 9), Describing Property (chapter 10), Writing an Appraisal Report (chapter 11), The Professional Appraiser (chapter 12) and Legal Issues Affecting the Appraiser (chapter 13).
After the main chapter content there are over 30 appendices, which include content and topics on client data forms, letters of introduction, sample appraisals, IRS guidance and regulations, treasury regulations, deposition tips, oral appraisals, and contracts. Appendices are followed by a bibliography followed by an excellent appraisal glossary (this is in addition to chapter 1 on appraisal terminology and the last section is an extremely detailed index to find quickly and easily what you are looking for.
The content is detailed, easy to follow and very well explained by the author. Chapters include a badge to notify the reader on updated and new information and content, as well as many pages with easy to follow bullet points and footnotes for additional information. As many AW readers are aware from previous AW blog postings on
Appraising Personal Property
, I use the book on a regular basis. The book functions well as either a stand-alone reference guide, or in conjunction with appraisal association manuals, publications and course work as a secondary resource and supporting manual. Perhaps the most impressive aspect of the of the book beyond its sheer appraisal scope is how it seamlessly incorporates foundatonal appraisal theory, practices and methodology with the newest version of the Uniform Standards of Personal Property. Dave does an excellent job of combining and consolidating appraisal methodology with USPAP.
I have been using
Appraising Personal Property: Principles & Methodology
for many years and it always has provided me with answers and excellent guidance when I have methodology and terminology questions. It is a go to guide on appraisal theory, principles, methodology and USPAP.
With personal property appraising constantly changing with new regulations, qualifications, research techniques, authentication issues, new technologies and increasing educational requirements and continuing education, the PP profession and the users of appraisers are now demanding more sophisticated, qualified and experienced appraisers. We are now seeing trends of more experienced art professionals joining appraisal associations with higher degrees, and years of object, museum, gallery and/or auction experience. To stay competitive, appraisers have to stay current with standards and methdology.
Appraising Personal Property: Principles & Methodology
is a resource that will keep appraisers updated to changes within the profession, and become more in-tune with progressive appraisal changes and credible work product.
There are only a few quality resources available to personal property in the form of appraisal books on theory, principles and methodology. Given the scarcity of quality books with accurate and in depth content on personal property appraising, every appraiser should have the newest edition of
Appraising Personal Property: Principles & Methodology
in their library. It is an essential resource to have. The cost is nominal given the amount of important and useful content contained within the newest edition.
The 9th edition is now available to order for $94.95 plus shipping. Click
HERE
to order. For more information, click HERE.
This award-winning book is the only complete, up-to-date, well-organized, practical and fully-indexed course book and reference guide to personal property appraising—highly-acclaimed as the definitive book about appraising.

Fully-Updated
2020-2021 USPAP Compliant
100s of changes
Over 600 footnotes for added clarity
726 pages

Each page has been fully edited to enhance clarity and understandability and to ensure compliance with USPAP and other best appraisal practices. No change in price! Now available for the straight-from-the-author price of only $94.95 plus shipping and tax. Go here for more information about the book!

Updated throughout to conform with the new 2020-2021 USPAP
Hundreds of new and expanded discussions
Loaded with over 600 footnotes
Built-in plain English guide to USPAP
Updated sample appraisals help ensure complete and USPAP-compliant reports

At the book's core are the ethical and appraisal performance standards of the widely-accepted Uniform Standards of Professional Appraisal Practice as promulgated by The Appraisal Foundation of Washington, DC. The reader will become knowledgeable in the principles and methodology of professional personal property appraising including terminology, tasks of an appraiser, objectives and intended uses of appraisals, types of value, IRS regulations, the three approaches to value, Appraisal Process, Problem Identification, appraiser competency, Scope of Work, value enhancers and detractors, depreciation, market principles, ethics, identification and authentication, USPAP, market research, describing property, legal issues, sample appraisals and much, much more. The course also teaches the reader basic appraisal techniques to facilitate beginning a professional appraisal business or improving an existing one. In short, the reader will be taught the skills necessary to write a complete, clear, concise, well-developed appraisal report in conformance with today's generally accepted standards.
Source:
Appraisal Course Associates
---